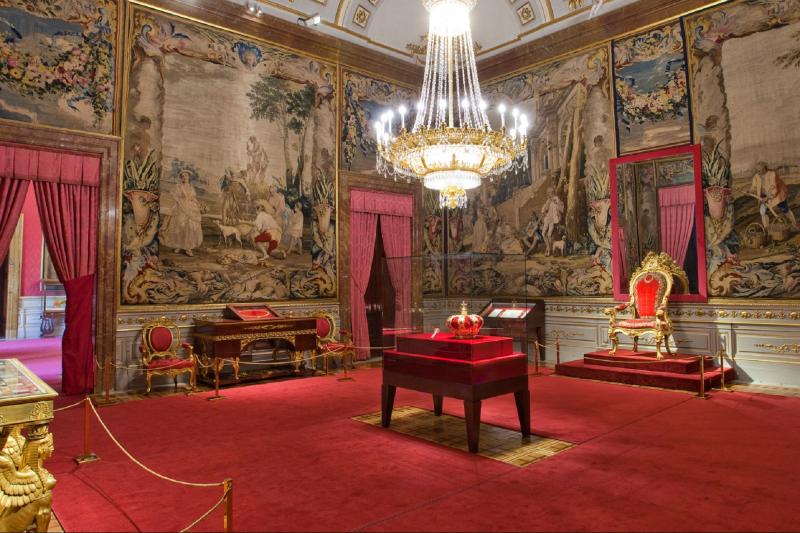 A Royal Tour: The Royal Palaces in Madrid
Toto je zcela nový produkt v naší nabídce. Své vstupenky můžete rezervovat již nyní, a to zde. Bližší informace o produktu budou brzy k dispozici.
Skip the line to the Royal Palace in Madrid! You get a guided tour through the palace, where you admire the stunning royal rooms, apartments and the Spanish crown and throne. You also travel to the Royal Palace in Arajnuez, where you skip the lines outside and see the many decorative rooms and the Museum of Royal Feluccas.
Vratné vstupenky Vratné vstupenky
Možnost vrácení vstupenek do 48 hodin před datem představení. Na vrácení může se může vztahovat storno poplatek až 20 % (na vstupenku).
Akceptovány kupóny na mobilním telefonu
Doba trvání: 5 hours 30 minutes
Co je součástí?
- Skip the line-access to the Royal Palace.
- Skip the line-access to the Royal Palace of Aranjuez.
- Guided tour of the Royal Palaces.
- Bilingual guide: English or Spanish.
- Transportation in a bus with aircondition.
- Radio guide system.
Adresa
Royal Palaces Tour
Adresa
Calle de San Nicolás, 15 28013 Madrid
Zákaznická linka

228 880 877
Potřebujete pomoc? Lene Vám s radostí odpoví na Vaše dotazy