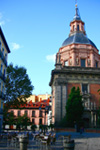 Hapsburgs Madrid & Prado Museum
Cena od 2009 Kč
Enjoy a picturesque guided tour around the Hapsburgs Madrid and a visit the world-famous Padro Museum. Together with your local guide you explore the Hapsburg Madrid, followed by a guided tour of the Padro Museum.

Highlights:
- Explore the Hapsburgs Madrid
- Skip the line to the Prado Museum
- Admire the Renaissance and Baroque architecture
- Enjoy a free drink at a café

Explore the Hapsburgs Madrid & the Prado Museum
Hapsburg is the name given to Madrid when the Hapsburg dynasty reigned in Spain. This reign began with Charles I, who enriched the city with palaces and monuments. Later on, Philip II made Madrid the capital of Spain and the city grew dramatically.
Your guide will take you on a picturesque tour around the Hapsburg Madrid and show you the incredible Renaissance and Baroque style buildings of this era.

During the tour, we'll enjoy a little break and a free drink at a cute café in this popular area of Madrid.

The second part of the tour is a guided tour of the world-renowned Museo Nacional del Prado, also known as the Padro Museum. The Prado Museum is the largest art gallery in the world and one of Spain's major tourist attractions. Together with your guide, you get to skip the long lines and walk right into the museum.
The Prado Museum displays some of the greatest masterpieces as The Garden of Earthly Delights by Bosch, The Nobleman with his hand on his Chest by El Greco, Las Meninas by Velázquez and The Family of Carlos IV by Goya.

If you want to visit the royal palace Palacio Real, you can also choose our Hapsburg Madrid and The Royal Palace Tour.
How do I get my tickets?
Shortly after your booking is complete your e-ticket will be sent directly to your email, just print it out and bring it with you on your tour.
Where does the tour start?
The tour starts Julia Travel Office. The address will be on your e-ticket. Please be there 15 minutes before the tour starts.
Where does the tour end?
The tour ends back at Prado Museum.
How long is the tour?
The tour lasts approx. 3 hours and 30 minutes.
What languages is the tour available in?
The tour is available in English and Spanish.
Are there children's tickets?
Yes, children's tickets are available for children between age 6-15. Children under age 6 are free when accompanied by a paying adult.
Hapsburgs Madrid & Prado Museum Info
Hapsburgs Madrid & Prado Museum
The tour departs from Julia Travel Office (next to Plaza de Ramales):
Calle de San Nicolás 15
Madrid 28013
Info
Hapsburgs Madrid & Prado Museum
The tour operates daily at 10 AM.

During winter, it only operates on Wednesday.
Adresa
Adresa
The closest metro stop is: Opera.



Podívejte se na mapu